Parkinson's Disease Touches VIP Personally
This month is one that we hold dear to our hearts due to the personal connection we have with Parkinson's Disease. On July 15, 2018, we said, 'Goodbye', to one of VIP America's founding members, Jim Collins.  Jim founded the company in 1997 along with his wife Joan and daughter Juli.  Jim's passion and commitment for his company was evident as he worked tirelessly over many years to lay the foundation and build VIP America to what it is today.  He worked in the community with the Alzheimer's and Parkinson's organizations.  Jim was a member of the Private Care Association and worked with them at state and national levels to insure the viability of such an important home health care option.
In 2008 Jim officially retired from the company he loved due to Parkinson's, and he also became a client. Being a client served to reinforce why VIP America was created in the first place.  To help people stay independent in place and to service both the client and the caregiver at their point of need.  Jim's caregivers became like family, several caring for him 10 years until his passing.
Parkinson's Disease and Its Stages
Named after James Parkinson, who famously published his work "An Essay on the Shaking Palsy" in 1817, Parkinson's Disease (PD) is a neurodegenerative disorder which little is known concerning the causes. There is no cure, with more research needed, but there are treatment options available that include medication and surgery. Individuals affected by PD start experiencing symptoms in the later stages of the disease. The two types of symptoms are categorized as movement-related (motor) and non-movement related (non-motor).
Motor Symptom Examples:
Tremors
Dizziness
Muscle Cramps
Slowness of movement
Rigidity
Non-Motor Symptom Examples:
Apathy
Depression
Constipation
Loss of sense of smell
Loss of cognitive impairment
Sleep Behavior Disorder
It's important to know that not everyone with PD will experience it the same. The stages involved can vary by person and impact the person differently regarding their order and intensity. Watch the video below for a full description of each stage.
Parkinson's Disease in Florida
The Parkinson's Foundation has been the leading foundation towards research, support, and assistance since 1957 with headquarters located in New York and Miami. They are behind the nation's top clinical studies, health professional training, and the improvement of care for people suffering from PD. With many opportunities available to get involved ranging from advocacy, awareness walks, and volunteer work, there's never a reason to feel alone if you or someone you know is living with PD.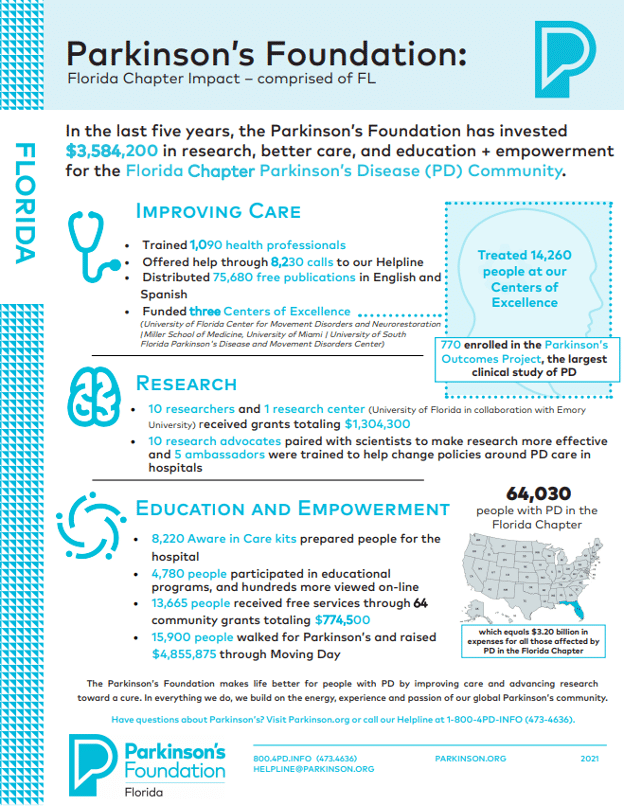 Local Resources Available
Palm Beach County
First Choice Neurology (Boca Raton)
Palm Beach Neuroscience Institute (West Palm Beach)
Martin County
Cleveland Clinic – Martin Health (Stuart)
Indian River County
Cleveland Clinic – Indian River Hospital (Vero Beach)
Brevard County
Health First Neuroscience (Melbourne)
Orange County
Neurology One (Winter Park)
Orlando Health (Orlando)
Lee County
Lee Health (Fort Myers)
Collier County
Collier Neurological Specialists LLC (Naples)
NCH Healthcare System (Naples)
Sarasota County
Intercoastal Neurology Group (Sarasota)
Ways to Recognize Parkinson's Awareness Month
Join Parkinson's Foundations' Moving Day Walk
Participate in an education seminar
Use #KnowMorePD on your social media pages
Host a Neurologist at work or school for a presentation about PD
Make a donation to the Parkinson's Foundation or another local program
How We Can Help You
As stated at the beginning of this entry, PD has had an impact on our company personally. We truly understand the struggles you or a family member are experiencing living with PD. When our founder was diagnosed and needing in-home care, we had caregivers on our roster experienced in providing expert Parkinson's care. You may be worried about having a caregiver referred to you that doesn't have much knowledge or experience with PD clients. Rest assured that we are here to ease your mind and reduce your stress in an already difficult situation. The reality is that not every caregiver has experience with PD clients because all caregivers have broad work experience with different clients in different situations and diagnoses. You might have already experienced this yourself with another company, facility, or hospital. A very important fact for you to know is that YOU have the RIGHT to request a referred caregiver that has experience with PD. In doing so, our client services department will make it a priority to refer a caregiver that matches your requests and needs.
We want to say, 'Thank you,' for your commitment and vision to a business that brings help and relief to those who need it.  VIP America will continue to strive for the ideas and excellence for which Jim worked on behalf of the caregiver, clients, and staff.
-Joan Collins
Co-founder of VIP America