Entering its 29th year recognized, National Senior Health & Fitness Day is the nation's largest senior health and wellness event. Today, multiple organizations will dedicate time for education and exercise concerning the impact aging has on our populations' health and wellness. These activities can range from health fairs and yoga to health screenings and fitness walks. Trainers also modify these exercises to fit any limitations that one has.
Examples of low impact exercises for seniors include:
Body Weight Workouts

Bent-over row
Tricep extension
Bicep curl
Overhead press
Front raise

Pilates

Overhead stretch
Seated cow stretch
Seated cat stretch
Seated mountain pose
Seated twist

Water Aerobics

Aqua jogging
Flutter kicking
Left lifts
Standing water push-ups
Arm curls

Chair yoga

Mermaid movement
Side circles
Food slides
Step ups
Leg circle
Walking

Dumbbell strength training

Squats to chair
Step-up
Bird dog
Lying hip bridges
Side lying circle
Exercises Seniors Need to Avoid
A substantial portion of mainstream workouts today are not suited for the senior population. These workouts can place an unhealthy strain on older adults, who may already be experiencing health complications. Even if health complications are not present, older adults are more fragile than younger adults. Younger adults' bodies can adapt more easily to a shift in exercise routines that will impact their body and health.
The exercises that should be avoided if over the age of 65 include but are not limited to:
Bench press
Upright row
Deadlift
Long-distance running
High-intensity interval training
Power clean
Leg press
Abdominal crunches
Alzheimer's Prevention
Though there is not a cure for Alzheimer's, there are strategies that are believed to lower the risk which stems from exercise and dieting. Regular physical exercise is believed to directly benefit brain cells by increasing blood and oxygen flow in the brain. A medically approved exercise program is a crucial part in a wellness plan.
Evidence suggests that heart-healthy eating protects the brain. This can include limiting the intake of sugar and saturated fats while eating plenty of fruits, vegetables, and whole grains. There is a wide variety of diets to choose from, but the two most common are the DASH diet and Mediterranean diet.
DASH (Dietary Approach to Stop Hypertension) diet emphasizes vegetables, fruits, fat-free or low-fat dairy products, whole grains, fish, poultry, beans, seeds, nuts, and vegetable oil. It also limits sodium, sweets, sugary beverages, and red meats.
A Mediterranean diet is like the DASH diet by emphasizing whole grains, fruits, vegetables, fish, shellfish, little red meat, and healthy fat such as nuts and olive oil.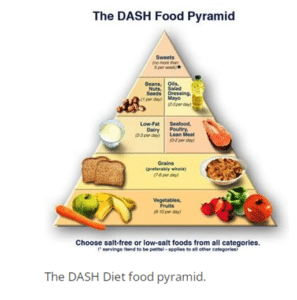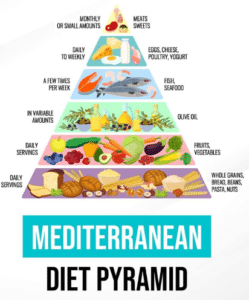 Dietician vs. Nutritionist
Seniors can benefit from having either a dietician or a nutritionist in their lives. It is important to understand the difference between the two. A simple way of understanding this is that a dietician is a nutritionist, but a nutritionist is not always a dietician.
To become a Registered Dietician (RD), one must complete a bachelor's degree program at an accredited university, complete a year-long internship, and pass a national examination. They must complete continuing education annually to maintain their credentials. They have government regulations they must abide by to ensure security.
Depending on specific state guidelines, Nutritionist do not need to complete a bachelor's program to offer services as a Nutritionist. However, they can become certified nutrition specialists (CNS) by completing a master's or doctoral degree in a field-related discipline. It is important for seniors to verify with their primary physician if a dietician or nutritionist is needed, and if so recommendations for one. The dietician and/or nutritionist goals for you will always revolve around two things: healthy eating and happy eating.
Benefits include:
Improved health and quality of life
Individualized eating plans
Budget-conscious planning
Encouragement to achieve goals
Helps to overcome predispositions to medical issues
Reduce risk of heart disease and diabetes
How Can We Help?
We see the benefits that a senior can gain from having a dietician or nutritionist in their life. Like all healthcare professionals involved with a senior's life, such as dieticians, and primary doctors, we focus on quality of life. The importance of this cannot be emphasized enough. If you have transportation issues to your dietician, we are available to refer a qualified caregiver to assist you. If you are having trouble finding someone to do your grocery shopping for your dietician's plan, the referred caregiver can also assist with that. Maybe you already have the food that your dietician suggested but are worried about your ability to prepare your meals. Qualified caregivers are available to be referred to you that have meal prep experience. Feel free to give us a call at any time for all your comments, questions, and concerns and we will be more than happy to assist in any way we can.