Occupational therapy is a science-driven, evidence-based profession that enables people of all ages to participate in daily living or live better with injury, illness, or disability. This is accomplished through designing strategies for everyday living and customizing environments to develop and maximize potential.
By taking the full picture into account—a person's psychological, physical, emotional, and social make-up—occupational therapy assists people in:
Achieving their goals
Functioning at the highest possible level
Concentrating on what matters most to them
Maintaining or rebuilding their independence
Participating in the everyday activities that they need to do or that simply make life worth living
Occupational therapists and occupational therapy assistants are experts in helping people perform the occupations they need and want to do every day.
The American Occupational Therapy Association (AOTA) is the leading national association for not only Occupational Therapists, but anyone interested in getting involved in numerous activities such as advocacy, legislation, awareness, etc.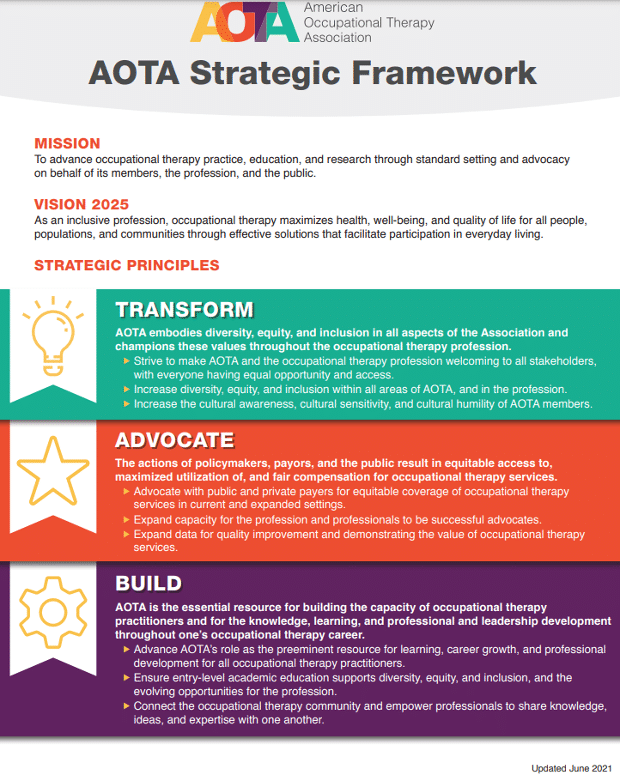 Occupational Therapy and Seniors
Many believe that OT is primarily for children, but the reality is that the senior population also benefits tremendously from OT services. For many seniors, everyday tasks are a challenge. Tasks we take for granted, such as walking, eating, dressing, and bathing, do not come easy with age. An Occupational Therapist can assist by helping seniors improve their basic motor skills, strength, and dexterity. An Occupational Therapist can also assist in balancing and muscle building exercises that have the potential to decrease the chances of a fall occurring.
Aside from physical exercises that benefit seniors' physical capabilities, an Occupational Therapist can also assist with mental exercises. First, they meet with family members and evaluate their loved one's current cognitive abilities. From there, they can create a care plan aimed at developing memory skills. The activities offered to a senior can range from memory-enhancing activities, such as puzzles and matching games, to placing signs in the home near the areas where a senior should not wander when disoriented.
An occupational therapist can also review the layout of a home and make modification recommendations. These recommendations can include handrails, wheelchair ramps, slip-resistant flooring, walk-in showers, medical alert systems, etc.
Benefits of Using Caregivers and Occupational Therapy
Many families come to our company requesting us to refer a caregiver to a loved one who is currently receiving OT. The results vary from person to person, but overall seniors can typically reach the goals that an Occupational Therapist created for them much faster having a caregiver present. Since the average visit from an Occupational Therapist can last 30 minutes to 1 hour, that leaves a lot of time during the day when a senior may be left alone.
An in-home caregiver can be beneficial for you and your loved one by being present as an extra set of eyes when the therapist is not around. Per your request, a referred caregiver can note daily everything they did and witnessed throughout their shift with a loved one. Copies of these invoices are made available to you at any time if you'd like to provide them to your loved one's occupational therapist. A referred caregiver can not only encourage, but also provide emotional support to follow OT suggestions. Emotional support from someone in-person can go a long way.
How You Can Support Occupational Therapist Month
Share Information about occupational therapy on social media using #OTMonth
Join AOTA for volunteer and advocacy opportunities
Donate to AOTA
Meet with an OT to learn more about what they do and thank them
Deliver breakfast and/ or Thank You cards to a local OT office
Purchase and wear an OT T-Shirt
Local Resources Available
Handwriting Helpers of the Treasure Coast, LLC
Florida Occupational Healthcare (Stuart, Fl.)
ABA Therapy Solutions (Stuart, Fl.)
CORA Physical Therapy (Statewide)
Bilingual Key Therapy (Port St. Lucie, Fl.)
Vero Orthopedics (Vero Beach, Fl.)
Florida Therapy Center (Brevard County, Fl.)
Cornerstone Therapy Services (Melbourne, Fl.)
Talk Active Therapy Clinic (Orlando, Fl.)
K&L Therapy Services, Inc. (Orlando, Fl.)
Brooks Rehab (Kissimmee, Fl.)
FOCUS (Fort Myers, Fl.)
Bridging The Gap Physical Therapy (Bonita Springs, Fl.)
Rehab 1 of Charlotte County (Port Charlotte, Fl.)
Hendry Regional Medical Center (Clewiston, Fl.)
Optimum Wellness Centers (Lehigh Acres, Fl.)